Home to the QAC!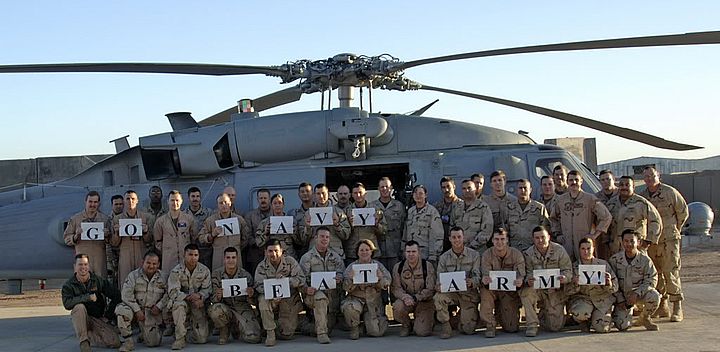 The Quantico Area Chapter of the U.S. Naval Academy Alumni Association perpetuates friendships and associations formed by chapter members through their common experiences and interests in the Naval Academy and the Naval Services. It promotes fraternity among Naval Academy alumni and fosters interests of our country, the Naval Services, and the Naval Academy. Activities are focused on bonding members of all classes and all generations in a common tradition of service, citizenship, fellowship, and mutual support.
Message from the President
QAC October Message
HAPPY 243d BIRTHDAY TO OUR NAVY!
SHIPMATES,
As we celebrate the 243d Birthday of the Greatest Navy in the history of the world, let me thank you all for wearing the cloth of our Nation. In continuing the traditions of our Naval Service, we underpin the values of the greatest Nation on earth and the only one founded on principles. As we celebrate let us remember the shipmates who have gone before us and encourage those who follow in this most noble of callings.
Last month I published some goals and we have begun to move out on those goals. Nancy Springer is non-hosting a Beat Air Force gathering in Manassas on 6 October at the Philadelphia Tavern. Follow our Facebook page Quantico Area USNAAA Chapter for other opportunities to gather with shipmates to watch games. We should think of these as "flash mobs" until we settle on particular places, send out a FB note if you're watching the game and let us know where you are so we can join you. This can work for other activities as well. As we develop more agile communications we can make more activities available to more of the Chapter. We have procured for trial a membership tracking and communication program. We are giving it a test run so don't be surprised if you see an email other than e-vite.
Along the line of fundraising, one of our goals, Jim Ripley brought to my attention that we can sponsor candidates for the Foundation Schools. I will ask Jim to fill in the Council soon but for now we need some fundraising ideas to get the ball rolling to support quality applicants for STEM, Summer Seminar, and now the Foundation. We can take these young warriors from anywhere, even anonymously. I have one candidate in mind now.
As we move into the holiday season there will be a variety of opportunities to participate with shipmates honoring veterans at Quantico, Annapolis, Arlington and other places. I encourage you to choose some now and put them on your schedule. There are a few TBS events planned for the week of 22 October and further ahead our calendar of speakers is set.
As a reminder here are our continuing tasks:
Specific Tasks:
Now, find a pub to gather at for all Navy Football games.
By 1 March 2019, Test and employ an automated membership tracking system.
By 15 November 2018, start no host socials at various alumni locales.
By 1 January 2019, develop fundraising ideas for execution.
By 1 June 2019, develop long range and intermediate goals consistent with our Strategic Objectives.
Keep Rowing and HAPPY BIRTHDAY U.S. NAVY!
Semper Fidelis, Tom Connally '83
President, QAC
Please consider paying your Chapter dues for June 18 – May 19 now! Just hit the button below!
COMMITTEES FOR 2018-2019
Activities: TBD (C) / Members TBD
Membership: TBD (C) / Members TBD
Communications: Melanie Salinas (C) / Jorge Esparza / Ron Diefenbach / Steve Ritacco / Andy Wehrle
Blue & Gold Liaison: Jim Ripley (C)
Speaker Series: TBD (C) / Members TBD
By-laws: Melanie Salinas (C) / Members TBD
GOALS FOR 2018-2019

TBD