Home to the QAC!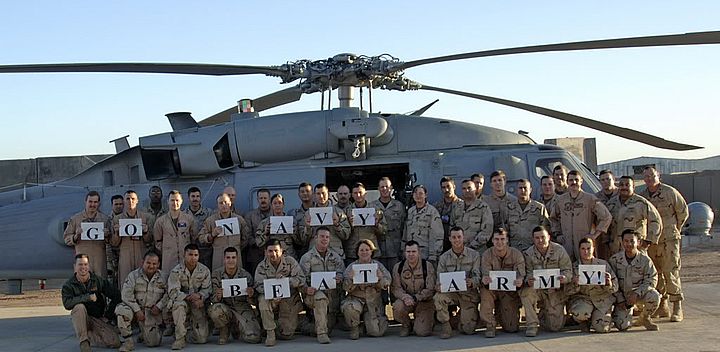 The Quantico Area Chapter of the U.S. Naval Academy Alumni Association perpetuates friendships and associations formed by chapter members through their common experiences and interests in the Naval Academy and the Naval Services. It promotes fraternity among Naval Academy alumni and fosters interests of our country, the Naval Services, and the Naval Academy. Activities are focused on bonding members of all classes and all generations in a common tradition of service, citizenship, fellowship, and mutual support.
Message from the President
Welcome to December!  We started December off very strong on the 1st with an excellent presentation at our monthly breakfast by Mr. Kevin Burton from the FBI Behavior Analysis Unit.  Fascinating stuff.  Our thanks to Joe Bertoldi for suggesting, organizing, and coordinating with Kevin.
We have a busy December planned even though we are heading very quickly into the Holiday Season and all the hustle that brings. As noted, our first Friday of the month breakfast happened on the 1st.  Immediately following that we are supporting the Sgt. Mac Foundation Wreath Laying on Saturday the 2nd at Quantico National Cemetery. As I write this, we have about 20 Members and their families who are signed up to help.  Additional information is contained on the Chapter Calendar.
In our continued involvement and support of the various TBS classes, the Chapter is sponsoring an Army/Navy Game viewing for interested 2nd Lieutenants and TBS Staff at the TBS bar (the Hawkins Room) on the 9th.  All Chapter Members who have paid their dues are asked to join us if you are not actually going to the game or haven't already made other plans.  At this point, we have about 15 Members / family members who are going to go, rub shoulders with the next generation of USMC Officers, and cheer Navy on as they win back the Commander-in-Chief Trophy.
There are 4, count 'em, 4 opportunities to share your experiences at the TBS mixers in December.  The Calendar has all the information.  Try this just once and I think you will find you are going to want to do it again.  If you remember back with you wore butter-bars you were very interested in guidance and sea stories.
Finally, we are informally supporting Wreaths Across America at QNC on the 16th. Calendar has the details.
Looking beyond December:
We WILL have a January breakfast (the 5th) at the Holiday Inn Express in the Fredericksburg area. COMNAVAIR, VADM Paul Grosklags, will be our guest speaker.  We are trying the southern venue one more time hoping some of our shipmates who live down that way will join us.
We've had a bit of a shake-up on speakers. Adm Natter, who was scheduled for February, is now scheduled for surgery so he will have to join us on a later date. Also, Brad Snyder has had to send his regrets for March.  We are working other potential speakers but can ALWAYS USE INPUT.  You all have great networks. You know people.   If you know of someone you think would be a good speaker and that you would feel comfortable asking to speak – please contact Tom or me and we will work with you from there.
Finally, we are looking at a Golf Outing in the Spring as well as some sort of event in support of Run to Honor on or near Memorial Day. We need VOLUNTEERS to lead both events.  Let me or Tom know.
Got Chapter Dues?. We are a 501c3 organization, so you might be able to take advantage on your Federal taxes.  $20 via PayPal ($5 savings), or you can send a $25 check to the Treasurer, or you can bring a $25 check or cash to a Monthly Breakfast.  Link to paying on-line via PayPal is

BEAT ARMY!
Bob Taylor '74, President
COMMITTEES FOR 2017-2018
Activities: Tom Connally (C) / Nancy Springer / John Keenan
Membership: Melanie Salinas (C) / Ron Diefenbach / Steve Ritacco
Communications: Melanie Salinas (C) / Jorge Esparza / Ron Diefenbach / Steve Ritacco / Andy Wehrle
Blue & Gold Liaison: Jim Ripley (C)
Speaker Series: Tom Connally (C) / Jim Gfrerer
By-laws: Melanie Salinas (C) / Phil Salinas / Bob Taylor
GOALS FOR 2017-2018
Continue the monthly speaker series.
Grow the Chapter's membership.
Continue/enhance our support of the Semper Fi Fund and Quantico National Cemetery.
Support Congressman Wittman's Academy Candidates Evaluation Board.
Vibrant support of STEM.
Vibrant support of our BGO.
Develop a Chapter Crest.