Home to the QAC!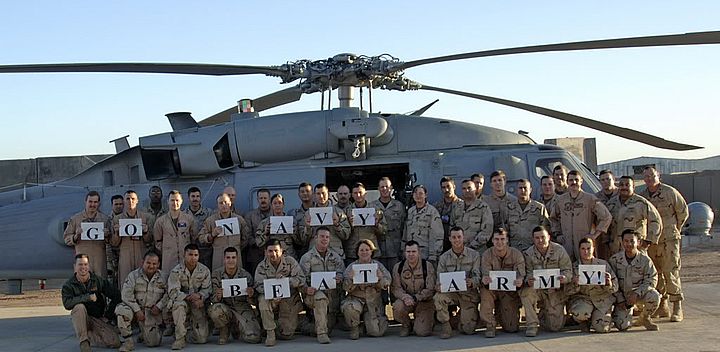 The Quantico Area Chapter of the U.S. Naval Academy Alumni Association perpetuates friendships and associations formed by chapter members through their common experiences and interests in the Naval Academy and the Naval Services. It promotes fraternity among Naval Academy alumni and fosters interests of our country, the Naval Services, and the Naval Academy. Activities are focused on bonding members of all classes and all generations in a common tradition of service, citizenship, fellowship, and mutual support.
Message from the President
Thank you, Sir!  MAY I have another? Can it really be May already? Time flies.
For our monthly breakfast series in April, we had what is likely a once-ever event. We hosted not one – but two – Commandants of Midshipman.  The current, CAPT Robert Chadwick, '91, (the 87th 'dant) and his dad, RADM Stephen Chadwick, '61, (the 71st 'dant). The Admiral spoke first and gave us superb insight into his "retired" life, what it's like to move from PA to TX, and how he continues to serve in multiple ways including supporting USNA.  He continues to be a real class act. Then Robb took over and gave those in attendance a very informative talk on the state of the Academy. Nice to see leadership has a positive attitude and really wants to keep our institution at the top of the game. Our thanks to both for coming all the way to Fredericksburg to speak to the Chapter.  As you all know, we donate money to the Semper Fi Fund in the name of each breakfast speaker and, because of this special event, we decided to donate in each of their names.
Looking forward into the month of May:
Annual Planning Meeting. We have our annual Membership Lunch / Planning Session on the 3rd of May at 1130 at TCAQ. It's imperative we have good attendance at the event.  We will be going over what the Chapter did in the last year and hearing what the USNAAA / Foundation Board of Trustees did / decided upon last Fall.  Most importantly, however, this is the best opportunity for the Chapter Members to put their stamp on the planning for the upcoming year.  What do you want to see done? What can we do better? Can you volunteer some time / expertise to making the Chapter better?  Everyone has an invite in their e-mail…if you can't find it contact me or Nancy Springer.
QNC Flag Raising. Don't forget to check the schedule on our website. We are again asking Chapter members to volunteer a bit of their time to help the Quantico National Cemetery raise the flags along the drives.  Only takes a couple hours and is a nice way to say thanks to those who have served before as well as their visiting families.
Run to Honor Fun Run. On Memorial Day itself, Nancy Springer, Clayton Hill, and Lynne Malinowski have put together our first Memorial Day run / walk in association with Run to Honor.  After a thorough search for the right venue, they have come up with the perfect place.  We will be doing it at the USMC Museum just outside the main gate to the base.  It is planned as a 3K run / walk and a 1-mile run/walk.  Again, everyone has an invite in their e-mail…if you can't find it contact me or Nancy Springer.
Tom Connally is still faithfully running the TBS events every month.  Would be great to see some more of our Chapter members participate in this worthwhile endeavor.  Not strictly for prior Marine Officers but especially applicable for prior Marine Officers. See our website for dates.  Tom also sends out invites just prior to each event.  If you want to get on his list – contact him directly.
For June:
We have a monthly breakfast scheduled for 1 June but, as of when I write this, we don't have a planned speaker. We all have great contacts whether through our work or through our Classmates.  Can you help and suggest a potential speaker(s) – not just for June but for anytime in the future?
Golf – we WILL be doing our first Chapter Golf Event. Looks like either the 15th or 16th of June.  John Keenan has the conn on this.  Nancy will be sending out / has sent out a quick query to the Chapter to see what date the best for the most people might be.  Let us hear back quickly from you on the query.  The real invite will go out early in May.  Looking forward to seeing a great gathering of Chapter Members, family, friends.
Taylor…departing – Chapter Members, it's been an honor and privilege run but my time to serve as your President is rapidly drawing to a close.  May will be my last month as President and Tom, along with a new set of Chapter Officers and Board of Advisors, takes over on 1 June.  I want to thank each and everyone one of you for your support and encouragement.  We have a very vibrant and unique Chapter.  Let's make it even better by helping Tom and the new Council succeed in the new fiscal year by volunteering our time and skills, attending Chapter events, and hopefully, paying our dues so we can continue to support the charities we support.
Please consider paying your Chapter dues for June 18 – May 19 now! Just hit the button below!
BEAT ARMY!
Bob Taylor '74, President
COMMITTEES FOR 2017-2018
Activities: Tom Connally (C) / Nancy Springer / John Keenan
Membership: Melanie Salinas (C) / Ron Diefenbach / Steve Ritacco
Communications: Melanie Salinas (C) / Jorge Esparza / Ron Diefenbach / Steve Ritacco / Andy Wehrle
Blue & Gold Liaison: Jim Ripley (C)
Speaker Series: Tom Connally (C) / Jim Gfrerer
By-laws: Melanie Salinas (C) / Phil Salinas / Bob Taylor
GOALS FOR 2017-2018
Continue the monthly speaker series.
Grow the Chapter's membership.
Continue/enhance our support of the Semper Fi Fund and Quantico National Cemetery.
Support Congressman Wittman's Academy Candidates Evaluation Board.
Vibrant support of STEM.
Vibrant support of our BGO.
Develop a Chapter Crest.