Home to the QAC!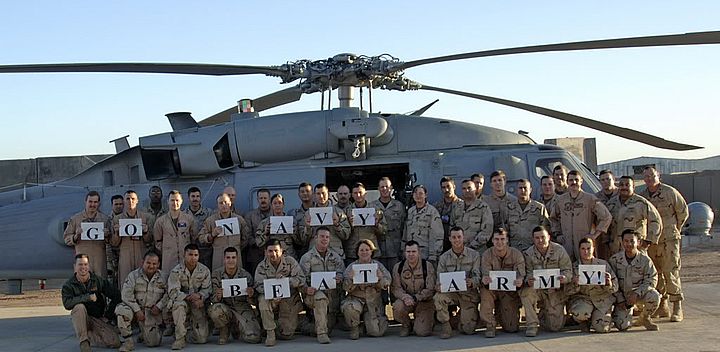 The Quantico Area Chapter of the U.S. Naval Academy Alumni Association perpetuates friendships and associations formed by chapter members through their common experiences and interests in the Naval Academy and the Naval Services. It promotes fraternity among Naval Academy alumni and fosters interests of our country, the Naval Services, and the Naval Academy. Activities are focused on bonding members of all classes and all generations in a common tradition of service, citizenship, fellowship, and mutual support.
Message from the President
Hard for me to believe we are already starting the 4th month of 2018 – time truly does seem to fly.
In our March breakfast we had a bit of a last-minute scramble when our planned speaker had to cancel on the Wednesday before the breakfast.  Not to fear though.  Tom Connally dug in and asked OUR OWN Chapter Member, BGen Scott Benedict if he could fill in.  He did, and it was a super talk.  Our sincere thanks for Scott for jumping in at the last minute!
For April we have an exciting breakfast set up. We will be hosting not one – but two -Commandants of Midshipman.  The current, CAPT Robert Chadwick, '91, (the 87th 'dant) will be our speaker and he is bringing his Dad, RADM Stephen Chadwick, '61, (the 71st 'dant) with him.  We'll see if we can get a good back and forth going with them! To make this special event happen we pushed the breakfast to the SECOND FRIDAY of the month (the 13th). Also, we are taking this one to Fredericksburg – once again – hoping some our shipmates who live down that way will be inclined to join us.  If you haven't seen an invitation for this event, then something is wrong.  Contact Nancy Springer (qacusnaaatreasurer@yahoo.com ) and let's get you on the invite list.
Lot's of good stuff coming in May that we hope you will participate in with the rest of the Chapter.
Right off the bat is our annual Membership Lunch / Planning Session.  As we did last year, we are holding it at The Clubs at Quantico (TCAQ).  This replaces our breakfast speaker series for this month.  It is on the 3rd of May at 1130 at TCAQ.  So, a couple of things to note:  The 3rd is a THURSDAY.  It is lunch and not breakfast.  We will be discussing what we did over the last year, review info from the Board of Trustees meeting last Fall and most importantly, talking about where we want to go in the 2018-2019 year.  We ask you to join us, raise your thoughts, give your suggestions…maybe volunteer to help next year's leadership making the Chapter better than we are now. Invitations soon.  Space is somewhat limited so please RSVP early.
In late May, as you will note by looking at the schedule on the website, we are once again asking Chapter members to volunteer a bit of their time to help the Quantico National Cemetery raise the flags along the drives.  Only takes a couple hours and is a nice way to do some personal reflection and say thanks to those who have served before us while helping the cemetery reflect its proud military heritage.  Best guess, as I write this, is Saturday the 28th.
Finally, on Memorial Day itself (the planned date right now) Nancy Springer, Clayton Hill, and Lynne Malinowski are putting together our first Memorial Day run / walk in association with Run to Honor.  After a thorough search for the right venue, they have come up with the perfect place.  We will be doing it at the USMC Museum just outside the main gate to the base.  Right now, we are looking at a 3K run and a 1-mile run/walk.  An invitation very soon and space is limited here too – so RSVP early!
Tom Connally is still faithfully running the TBS events every month.  Would be great to see some more of our Chapter members participate in this worthwhile endeavor.  Not strictly for prior Marine Officers but especially applicable for prior Marine Officers. You have a lot to share.  Share your experiences with the young officers.  Help them decide their future. They are eager to listen.
A Chapter golf outing is still being worked.
Finally – you should have all got an e-mail from me earlier in March but want to remind…Chris Castelli sent a note for support for his classmate's (Jim Kim) son.  I add here once again for your consideration: "This week is national rare disease week and I am sending out an urgent request for help to raise funds to save my son's life and other children. Over 30 years of experience in the Navy has taught me that I need a special fighting team to battle this disease. I am fighting for Tyler (9) who is suffering from a rare fatal neurodegenerative disease called Juvenile Batten Disease. Ultimately, this disease takes away life at young age. We have teamed up with Beyond Batten Disease Foundation (BBDF), registered 501 (C) 3 organization, to raise the final $2.5M of $6M needed for research and fund the first-ever treatment to save lives of hundreds of children like Tyler. Last week, I visited the Neurological Research Institute in Houston to learn about a treatment to slow down this terrible disease that might become available in late 2018. Shipmates, we need your financial support. There is a BBDF anonymous donor who will match your donations up to $150,000. Please join Tyler's Mission team to make this possible. Thank you! Tyler's Mission: www.defeatbatten.org"
Got Chapter Dues?  Just hit the button below!
BEAT ARMY!
Bob Taylor '74, President
COMMITTEES FOR 2017-2018
Activities: Tom Connally (C) / Nancy Springer / John Keenan
Membership: Melanie Salinas (C) / Ron Diefenbach / Steve Ritacco
Communications: Melanie Salinas (C) / Jorge Esparza / Ron Diefenbach / Steve Ritacco / Andy Wehrle
Blue & Gold Liaison: Jim Ripley (C)
Speaker Series: Tom Connally (C) / Jim Gfrerer
By-laws: Melanie Salinas (C) / Phil Salinas / Bob Taylor
GOALS FOR 2017-2018
Continue the monthly speaker series.
Grow the Chapter's membership.
Continue/enhance our support of the Semper Fi Fund and Quantico National Cemetery.
Support Congressman Wittman's Academy Candidates Evaluation Board.
Vibrant support of STEM.
Vibrant support of our BGO.
Develop a Chapter Crest.