Home to the QAC!

The Quantico Area Chapter (QAC) of the U.S. Naval Academy Alumni Association perpetuates friendships and associations formed by Chapter members through their common experiences and interests in the Naval Academy and the Naval Services. QAC promotes fraternity among Naval Academy alumni and fosters interests of our country, the Naval Services, and the Naval Academy.  Activities are focused on bonding members of all classes and all generations in a common tradition of service, citizenship, fellowship, and mutual support.
PRESIDENT'S MESSAGE  –  JANUARY 2023
Happy New Year Shipmates,
I hope ya'll are doing well and were able to spend quality time with friends and family. The chapter is excited for the year to come and we are continuing our service to others as well as our chapter.
Our Outstanding Breakfast Speaker Series continues this coming Friday so please mark it on your calendar and join. Joining us is Lieutenant General John E. Wissler, USMC (Ret.), '78, Distinguished Chair of Leadership, VADM Stockdale Center for Ethical Leadership.
Committees and a Request:
– In the new year, I intend to establish a Strategic Plan Committee to thoroughly review the Chapter's current plan and to recommend any modifications. As you know, the Strategic Plan is the foundational document on which we base our annual activities and budget.
– We also plan to re-establish the Activities Committee that will solicit Chapter members for activity suggestions and ensure we have a member-developed, robust events program. We encourage you to join or chair one of these committees and ensure your voice (and others') is heard. Serving on a committee allows additional Chapter members, besides the Chapter Officers and Council, to actively get involved and make a difference. Please contact me at rdreeke@gmail.com for more information or to serve."
– Membership: Please ensure you are paid up for this year's membership. Also, please reach out to shipmates who might need a friendly nudge to join as well. We continue to have a thriving speaker series as well as support for multiple Veteran and USNA programs that our membership dues generously support.
– Speakers: We are always interested in hosting inspiring speakers for our monthly breakfast / speaker series. The new year is wide open… Please reach out to me and let me know if you or someone you know would like to share.
Please continue to check the website for any updates and information or simply reach out to me.
My very best wishes for a healthy and prosperous New Year and I look forward to seeing ya'll at our breakfasts,
President, Quantico USNAAA
XXXXXXXXXXXXXXXXXXXXXXXXXXXXXXXXXXXXXXXXXXXXXXXXXXXXXXXXXXXXXXXXXXXXXXXXXXXX
WHY JOIN THE CHAPTER?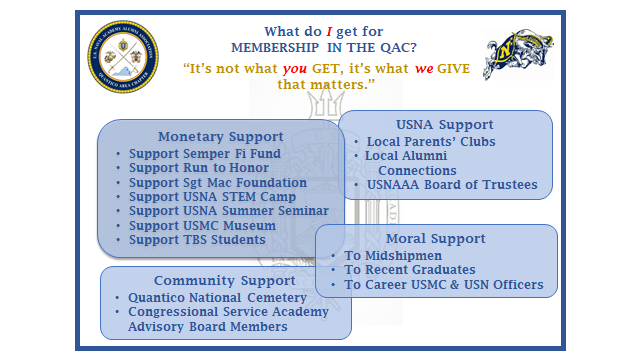 Please consider paying your 1 year Chapter dues for June 2022 – May 2023     OR       take advantage of the 3 year option and have an active membership until 2024. Just hit the appropriate button below!
     ONE YEAR MEMBERSHIP OPTION
    THREE YEAR MEMBERSHIP OPTION
COMMITTEES FOR 2022-2023
Activities: Phil Salinas (C) / Members: Melanie Salinas, John Keenan
Membership & Outreach: Bob Taylor (C) / Members: Greg Lane, Steve Ritacco, Robert Dulin
Communications:  TBD (C) / Members: Melanie Salinas, Jorge Esparza, Bob Taylor
Blue & Gold Liaison: Jim Ripley
Distinguished Chapter Awards