Calendar Of Events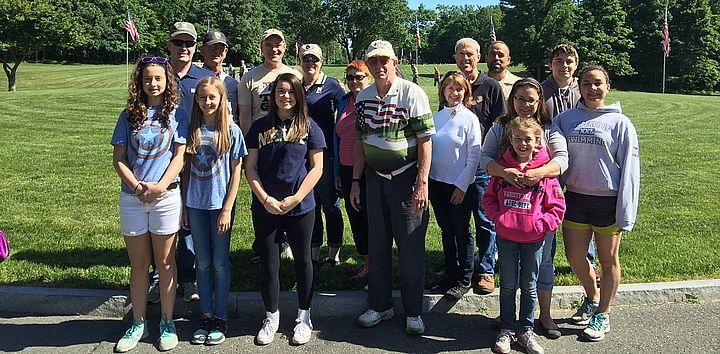 QAC Social & Educational Activities
The current plans for Chapter activities are shown below. All alumni are welcome and encouraged to participate in Chapter events. Details will be clarified when information becomes available. An e-mail invitation to events will be sent in advance if possible. To ensure you are on the invite e-mail list, please contact the Treasurer at qacusnaaatreasurer@yahoo.com. To add an event please contact the Vice President, Dan Morio, at dan.morio@cruiseplanners.com .
QAC Breakfast Meetings
Unless otherwise noted, all Breakfast Meetings start at 7:00 AM at the Holiday Inn Express, 3901 Fettler Park Drive, Dumfries, VA.
November 202111/12/21: 0700
11/6/21: 1530 Notre Dame / Navy Football watch party.  Location: 6 Bears and a Goat (https://www.6bgbrewingco.com/) 1140 International PkwyFredericksburg, VA 22406
11/12/21: 0700 Monthly Breakfast Speaker:  USMC Birthday. The Speaker is Lieutenant General David Beydler, USMC (Ret.), '81.  LtGen Beydler is the Vice Chairman of the U.S. Naval Academy Alumni Association and Foundation.. Location: Holiday Inn Express.  This will also be broadcast via ZOOM.  See invite for details.                                                                              SECNAV Birthday Message             CMC Birthday Message
Great USMC Birthday Breakfast with a super speaker. Passing the cake from Guest of Honor to oldest Marine present to youngest Marine present.
Showing the Chapter our Second Distinguished Chapter Award.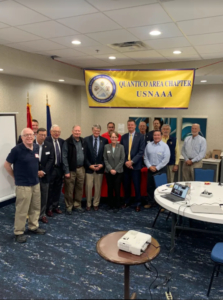 December 2021
12/3/21: 0700 Monthly Breakfast Speaker: Captain Rusty Yeiser, U.S. Navy (Retired) '74, Senior Director, Annual Programs, U.S. Naval Academy Foundation.  Captain Yeiser will address:
The role that the Foundation and philanthropy play in support of USNA and the Alumni Association.
Highlight several significant impacts of philanthropy at the Academy.
He also leads a class in Ethics and Moral Reasoning for Naval Leaders.  He will reflect on 10+ years of teaching this core course to 3/C midshipmen
. Location: Holiday Inn Express.
12/4/21: 1000 SGT MAC Foundation wreath laying at Quantico National Cemetery (POC Rob Curran) – Gather at the circle om Rappahannock Place in front of Section 10 at 10 AM
12/10/21: Wreaths Across America wreath laying at USNA Cemetery (POC Rob Curran) – time TBD and subject to COVID-19 restrictions
12/11/21: 1500   Army-Navy Game Watch Party with TBS Lieutenants.  The Hawkins Room, Lopez Hall, Bldg 1978, Montezuma Avenue, The Basic School, Quantico VA.  Chapter Members and guests are invited!  QAC POC: Nancy Springer, 760-845-6119
January 2022
1/7/22: 0700 Monthly Breakfast Speaker:  LtGen Ottignon, USMC, Dep CMDT for Manpower and Reserve Affairs. Location: Holiday Inn Express.
February 2022
2/4/22: 0700 Monthly Breakfast Speaker:  TBD. Location: Holiday Inn Express
March 2022
3/4/22: 0700 Monthly Breakfast Speaker: TBD. Location: Holiday Inn Express
April 2022
4/8/22: 0700 Monthly Breakfast Speaker:  ADM James F. Caldwell, USN, Director, Naval Reactors. Location: Holiday Inn Express
May 2022
5/6/22: TIME – TBD   LOCATION – TBD   Annual Membership Meeting