Chapter Events

Chapter provides activities that generally fit within one of three categories:  Social Activities, Service-related Activities, and Social/Educational Activities.  The following lists within each category provide a sampling of what members and interested alumni experience during each year.  These events provide the opportunity to 'retell old tales' (usually with much embellishment) among the various classes present, enjoy each other's company and camaraderie, and learn something or perform some useful service to the community and the greater Naval Academy family.
Blue and Gold Officer Program

The Quantico Chapter is committed to the development of our subordinates and those who come after us, to especially prospective candidates for appointment to USNA. Learn more about how we support the
Blue and Gold Officer Program
.
STEM Program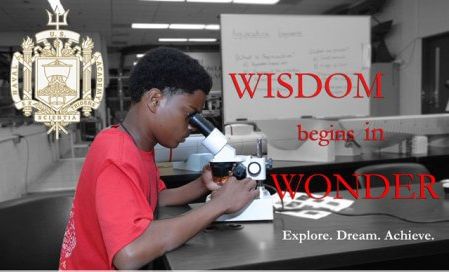 Additionally, we one of our objectives is "To seek out, inform, encourage and assist outstanding, qualified young men and women to pursue careers as officers in the Navy and Marine Corps." Learn how we do this with our
STEM Program
.
Social Activities
Join and help organize Chapter Social Events:
– Happy Hours at various establishments
– Viewing of Navy away football games held at a suitable venue- Wine tasting
– Wine tasting- Chapter annual meetings
– Chapter annual meetings
Service Activities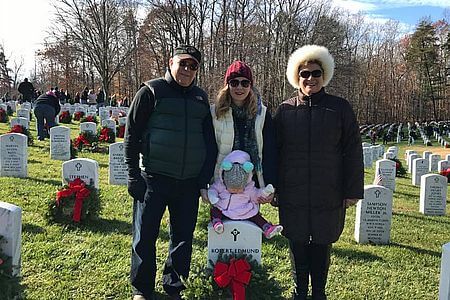 Every year the chapter works hard to enhance our support through the following activities:
– Construction of a flag retirement station at the Quantico National Cemetery
– Central Virginia Parents Club recognition event for members of the Class of 2017
– Wreath Laying Ceremony at Quantico National Cemetery
– Attaching flags and erecting flag poles along the main avenues of the Quantico National Cemetery in preparation for Memorial Day events
– Providing STEM Scholarships for the USNA Summer STEM Program
– Support for the final evening meal at the Leatherneck evolution for rising First class
– Support for the 'hot meal' delivered to Skyline Drive for midshipmen participating in the Shenandoah Valley Campaign hike during their Spring Break
Educational Events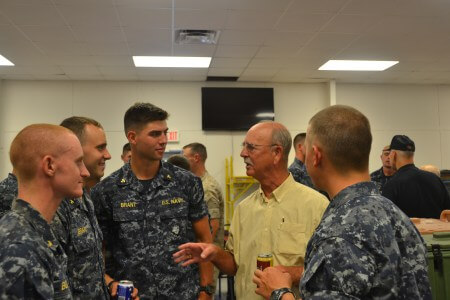 Monthly breakfasts at the Holiday Inn in Dumfries (just off Rte.234 and I-95), from 0700-0830 so folks can get to work.  These have been well attended as the speaker list has been impressive. These events are normally held on the first Friday of each month unless rescheduled.
2018 Past Events